Research Materials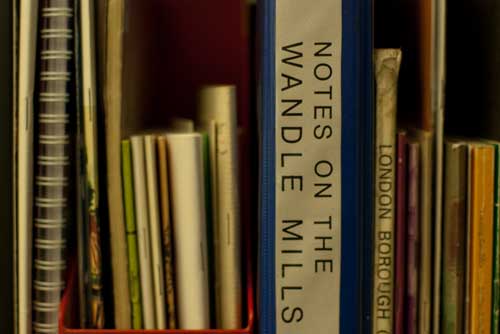 We have a small library of books and pamphlets relating to the industries and buildings of significance located along the banks of the Wandle.  Our subjects range from Archaeology to Windmills. We also have historical maps, illustrations, newspaper cuttings, articles from professional journals, some personal reminiscences, and a name index identifying mill owners, textile workers, and famous people who lived in the area.  There are copies of some of the textile and wallpaper designs from Liberty and William Morris, and some unique multi-volume unpublished material relating to the mills and industries of the Wandle.
Please note that facilities for research are limited so please let the museum know in advance when you would like to consult our resources and give us some indication of what you are looking for.  We can then make sure that the information you need is accessible at the required time.
Index of Names
We are pleased to make available an index of the names of people assoicated with the Wandle Industries. To access the index please click here to download the file.
The McGow reference referred to in the index can be found at Mills Index
Smeaton and Rennie - Wandle Involvement
This document looks at the work of the engineers John Smeaton adn John Rennie on the mills along the River Wandle. To view the document click here